See I didn't forget about the Photography 101 posts! They are still coming. I've been having so much fun with my
DSLR mentoring
students that I've been putting a lot of my time in there.
But the the photography 101 posts are still coming!
In order to understand how to shoot in Av mode, one needs an understanding of apertures. So if you're not quite sure what an f/stop and aperture are and how to pick one, you can go
here
and
here
.
Also, if we're going to talk about shooting in Aperture Priority mode, (shortened to "Av" in Canon and "A" in Nikon) it will help to review a wee bit.
Do you remember a long while back when we talked
here
about the 3 things that photographers can control to get get proper exposure in our photographs?
The 3 things in our camera that control the "
exposure triangle
" are
1.
ISO
2.
Shutter speed
3.
Aperture
As photographers, we manipulate these 3 things to control the light that comes in our camera. And it's a fine balancing act between these 3. If one of these 3 things restricts the light, another must compensate by letting more light in to keep proper exposure. And visa versa. If one lets in too much light, another will have to reduce the amount of light it takes in or the exposure will be wrong.
When you hear about photographers shooting in "manual" it simply means that the photographer is setting all 3 of these components, rather than letting the camera automatically set 1 or 2 or all 3 of them. And when a camera is in Auto mode, the camera automatically set these 3 things. But there are modes in between auto mode and manual mode where the photographer can set some of these settings and let the camera automatically set the other(s). Av mode (or Aperture Priority mode) is one way to do this. By selecting Av mode, the photographer selects the aperture and the camera selects the shutter speed for the best exposure.
Shooting in "Aperture Priority" simply means that the photographer selects the aperture she prefers, and the camera automatically compensates the shutter speed to get the correct exposure. So in Aperture Priority the photographer has complete control over aperture, she can change it as often as she'd like, but has no control over shutter speed because the camera figures that out and sets it automatically.
Let's get down to the nitty gritty of how to set up your camera to shoot in Av mode.
The first thing to do is to
set your ISO
. Ok, you don't really have to set your ISO. You can leave the ISO setting on Auto. But in my humble opinion, ISO is the easiest of the 3 parts of the exposure triangle to set. So I do recommend it.
Secondly, turn the "mode dial" to Av. (If you have a Nikon, it's just "A.")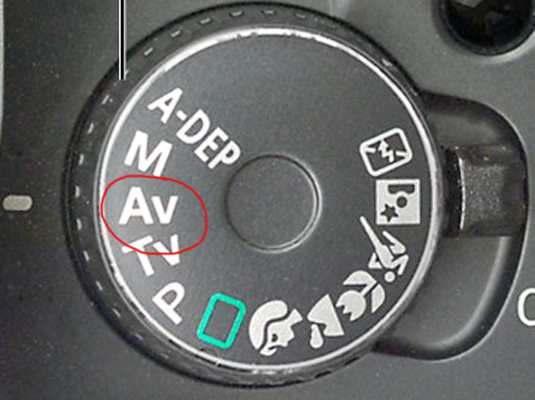 Third... and this may be the hardest part of all, you will need to figure out what aperture you'd like to pick and set your camera's f-stop. To determine what f-stop you'd like, you're going to have to think about what you want your image to look like and about the light available. Do you want a short depth of field? Or a deep one? Is it kinda dark, and you will need to let maximum light in your camera? Be sure to go back to the tutorial on
f-stops and apertures
if you're just not sure.
Once you've determined what f-stop you'd like, you'll need to select this f-stop/aperture on your camera.
Look at your quick-set screen and look for an F number. You can then change the aperture by rotating the main dial above the shutter release.
So when might it be a good choice to select Av mode when taking a photograph?
If you're in a dark environment and need to let maximum light in, use Av mode, and set the smallest f-stop to let in the max light possible.
If you are out in bright sunlight and your images are looking over-exposed. Set to Av mode and select a higher f-stop so less lights comes in your lens.
If you want lots of
bokeh
, set to Av mode, and select smaller f-stops to get that blurry background.
If you prefer a large depth of field, set to Av mode and select higher f-stops so much of your image is in focus. You will be limited by the lens on your camera and the f-stops it offers.
In short, to set in Av mode
1) Set your ISO (This is optional.)
2) Turn your mode dial to "Av"
3) Set your aperture
4) Shoot
For the over achievers in the group, I
know
you're out there...
Try this. Go out and shoot some images in Av mode. Be sure to shoot images that have small f-stops, and then shoot the same image with a medium f-stop, and then shoot one last time with a large f-stop. You should notice that your depth of field changes. But your exposure should remain good, not too light or too dark, because your camera is adjusting your shutter speed accordingly each time you change the aperture.
Holler if you have any questions!