Canon 5D Mark II, 100mm, 5.0, ISO 400, 1/100 sec.
I'm really trying to get better at back lighting shots. Practice makes perfect. I should have had my shutter speed higher, which opening up my aperture would have easily done. Hind sight is 50/50 I guess. I also really wanted this image to be in color, but I remembered what Stefanie said about, if color isn't adding to your photo, then it's taking away from it. I converted it to black & white and love it so much better this way!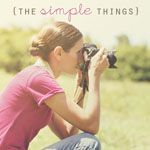 We made it up the mountain to Little Cabin in the Woods.
And after 105 degree days, the little kiddos were itching to get outside.
So they promptly went on a bear hunt.
And by "bear hunt" I mean collecting rocks and sticks, playing on the swings, and get really dirty.
It's a bit ironic, because there have been several bear sightings here very recently.
They looked and looked.
They marched all over the yard.
And had to take a break or two to rest up a bit.
But they couldn't find any bears any where.
Whew!