Mimi is growing up in a orphanage.
That word stings.
Orphanage.
I mean just the word conjures up images hunger and doing without, coldness, fear, hunger, and lack. Not the kinda of place anyone wants a child to grow up in.
Papa, Livy, and I had the opportunity to visit
Tess and Jude's orphanage in SaiGon
. That visit, although brief, changed all 3 of us forever. We saw school children in their classroom, just like any other school kids except no one is waiting in the carpool line to ask them how their day was. We saw the small "baby room" with row after row of sterile metal cribs, each with a baby... and no mama love. We saw caretakers who were spread as thin as the formula in the baby bottles.
We walked out of the Thu Duc Orphanage and never saw the world the same way again.
We are hoping to visit Mimi's orphanage on this trip too. It is
very
unusual for adoptive parents to visit the China orphanage that their child came from, but we know there is a slight possibility of visiting Mimi's orphanage since other families before us have been able to arrange it. We'll make the request to visit when we get to China, and pray our guides can arrange it. If we're lucky enough to get permission to visit, it is likely we will be able to meet our little pot sticker's foster parents! Fingers crossed. We know this would be an incredible link to Mazie in the future.
We know a bit about Mimi's orphanage already. It's located in the southeastern China province of Jiangxi.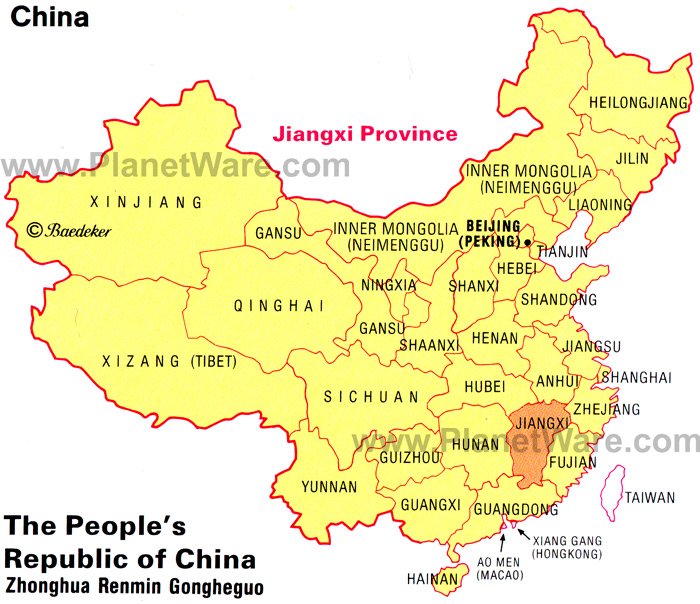 What struck Papa and I first when we saw pictures of the orphanage, was the size of it! And in additional to looking very large it looks very modern. It has several sponsors including our agency.
Entry/lobby of orphanage. The only thing better than the mural are the chandeliers!
But here's the really
amazing
thing about this orphanage... the thing that has us tickled pink!
The orphanage was rebuilt and had a grand reopening September of 2010.
Photo taken at the grand opening. This photo is priceless to us as it shows the extended community at the orphanage.
We're pretty sure Mimi is in the back row on the lap of the woman in pink., the smaller bald baby.
We're also confident that that her foster mama holding her and her foster dad on their right.
They
built a building with 13 individual apartments inside of the orphanage for "group home families" to live. Currently t
here are 8 individual apartments on the grounds of the orphanage being used. Each apartment or "group home" has a married couple who are foster mama and foster papa to 5 orphaned babies.
Each apartment has the sitting room, kitchen, one big play room, two bedrooms, (one is for the children and one is for the parents) and two bathrooms.
Living room
kitchen in a "group home" apartment
The foster parents are the sole caregivers to the 5 little ones in their charge. They eat all their meals with their group home family and sleep in the group home.
The children stay with their group home parents, foster parents, almost every day, for 24 hours. They live together like a regular family.
One of the bedrooms with 5 cribs in a row for each baby
This whole "group home" concept is just amazing! For us it's the jackpot of orphanages! It's the best case scenario as far as orphanages are concerned. A permanent foster family who can love on our little one and show her what a family feels like! No rotating care givers. Bonding and attaching is taking place!
To Papa and I, everything else is secondary.
playground at the orphanage
Now this setup is no guarantee that our little Miss Mimi is getting the TLC she deserves. But it certainly is a good sign.
We've seen first hand what happens when this love and attachment and TLC doesn't happen. When bonding
doesn't happen and needs are not met. We've seen first hand what happens to one's soul.
Every single thing is secondary to this child, our new
daughter
, being consistently loved on and provided for right now.
But don't get me wrong... it's still an orphanage.
***most of the photos taken by 2 families that visited the orphanage when adopting their daughters in 2011.